April 20th, 2008 edited by Tincho
Article submitted by Arve Seljebu. Guess what? We still need you to submit good articles about software you like!
Like many people nowadays, I use many different computers. You use your computer at work, home, school and in public places. Maybe you also got several computers at home? One thing that easy comes to annoyance is bookmarking. With different bookmarks on every computer, I've long searched for a good way to sync my bookmarks between browsers and operating systems. Maybe you've used Google bookmarks, del.icio.us or similar social bookmarking. I've been using Google bookmarks, and my problem arrived when I wanted a good way to view my bookmarks in the Opera web browser. The solution was to add a speed dial to http://google.com/bookmarks, which to me wasn't very appealing to me.
Sitebar is an easy way store your bookmarks in one place. It has support for many browsers and platforms. It comes both as a service, or self installed software. The latter is my preference. The great news is that sitebar comes as a package in Debian. All you need is apache, mysql and php. Installing is as easy as apt-get install sitebar, set up a mysql database through the install wizard and then browse over to http://yourserver/sitebar/ and set up your preferences.
To get started, sitebar includes ways to import and export your bookmarks in many formats. It's as simple as right clicking inside the bookmark area and choose Import Bookmarks. Sitebar can import the following input formats: Atom, OPML Link Type, OPML RSS Type, Opera Hotlist, Netscape Bookmark File, RDF/RSS, and XBEL. You can also select Auto, which is the easiest way.
The use of Sitebar may vary some between different browsers. For example, in Firefox several add-ons are available, and in Opera the side panel is used. That's why the sitebar-menu will show up when right clicking the bookmarks under Firefox, but in Opera you will need to use CTRL left-click to get the same menu. As for use in Opera, I prefer getting Opera's menu when right-clicking, which means you can open bookmarks in new tabs and such.
Adding bookmarks is simple too. You can make yourself a short cut to adding bookmarks in your browser. You could also right-click/CTRL-left-click where you want your new bookmark and then choose "Add Link". And here comes the beauty, under "Add Link" you've got a button called "Retrieve Link Information" which gets title, description and icon from the web page you are adding.
After a link is added, you can email, copy, delete or edit it. There is also security features that lets you choose rights for trees and folders. User management and groups are available too. All of these functions are easy understandable.
Screenshots
Full screen shot of Sitebar in Firefox/Iceweasel

Sitebar menu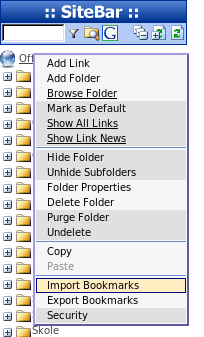 Importing bookmarks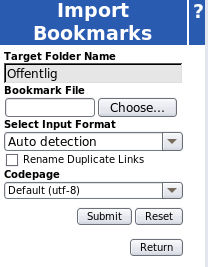 Adding a bookmark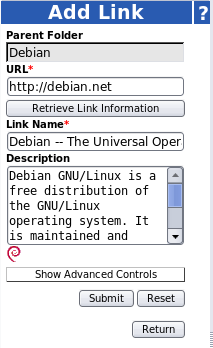 Creating a folder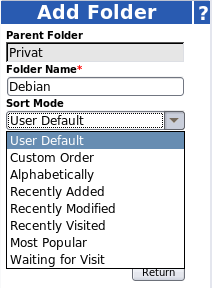 Conclusion
Pros:
Easy installed
Integrated into many browsers
Your own private bookmarks, no need for signing up some service
No need to synchronize between browsers
Cons:
Use vary between browsers
Sitebar has been available in Debian since at least Sarge, and in Ubuntu since Dapper.