September 27th, 2009 edited by Vicho
Article submitted by Emmanuel Kasper. Guess what? We still need you to submit good articles about software you like!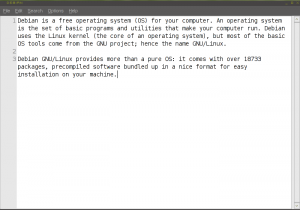 Sometimes you know you just need to change a single line or a only a few things in a file, but for sure you don't need syntax highlighting, Gnome VFS integration, or a plugin manager. Then you can spare a few seconds and start leafpad, instead of the usual Gedit/Kedit. Leafpad is is a very simple GTK editor, who can just do search/replace, line numbering and, yes, you can change the default font. Actually, as the result of creeping featurism, printing was added to Leafpad in version 0.8
Leafpad starts always in less that a second, in contrast to 3-4 seconds for gedit on my computer. And for just removing a single line, it makes a difference.
Since leafpad has an installed size of 672k, giving it a try will surely not clutter your hard drive.
Leafpad has been in Debian since at least Etch, and in Ubuntu since Dapper Drake.
Posted in Debian | 6 Comments »