September 2nd, 2007 edited by ana
Entry submitted by Casey Stamper. DPOTD needs your help, please contribute!
Conky is one of my favorite applications for all of my Linux distros. It is a light-weight system monitor (according to the project page) that can monitor many different aspects of your computer. You choose what to monitor and you choose where the monitor is displayed on your desktop through use of a configuration file - .conkyrc. I like to have my display on the top right of the screen and I have the background transparent so it looks like it floats on the desktop.
Here is a screenshot: (click on the image for full size)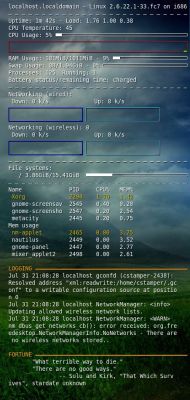 I especially like the CPU temperature monitor because I like to keep track of how hot the CPU gets when I'm doing CPU-intensive operation. The application is very light on resources (especially important for my Inspiron 5160) but allows you to keep track of a lot of system parameters without the bloat of a GUI front end.
Among other things, I monitor disk space, memory usage, system load, network download and upload speed, internet connections by protocol, RAM usage, swap usage and running processes. Although it takes up a bit more memory to do so, I also monitor the /var/log/messages file (the same as having a window open running tail -f /var/log/messages just to see if anything is happening behind the scenes that I should be aware of.
With this utility running all the time, if something should suddenly crash or if I have any slowdowns or anything else unusual, a quick glance at these various readouts will usually allow me to narrow the problem down to something specific.
If you use GKrellM or another built-in monitoring package, try this one out - I think you will like it.
Links