August 15th, 2007 edited by ana
Article submitted by Nicolas Spalinger. We have run out of good articles! Please help DPOTD and submit articles about software you like!
You love the command-line interface but you also want things to look good and be free as in freedom? Maybe you're looking for a good open font to use when you code? or something to make your code snippets look even better in a printed publication?
Then check out ttf-inconsolata!
What is it?
Inconsolata is a monospace font designed by Raph Levien of Advogato and Ghostscript fame (and quite a few other things).
It is a high-quality font released under the Open Font License (OFL), the community-approved free license specifically designed for fonts and collaborative font design. (See http://scripts.sil.org/OFL for all the details including a extensive FAQ).
Screenshots taken from inconsolata's website: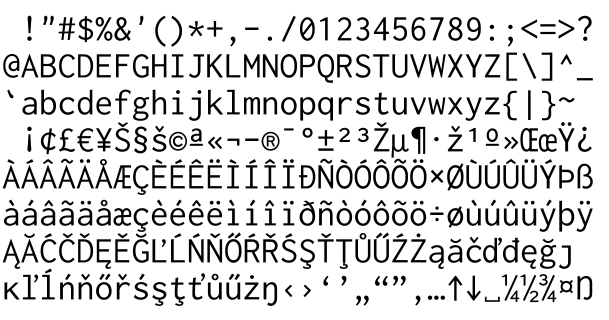 How does it compare to other fonts?
This fonts really stands out compared to other fonts out there for the following reasons:
It's an open font which comes with sources! The great thing about this font is that extended sources - not just the ttf - are made available by the designer: the Fontforge .sfd and the Spiro .plate sources are available on the upstream website and in the source package. A Type1 version of the font is also available.
It is a collaborative font project: you can freely use, study, modify, redistribute and/or sell the font under the terms of the OFL which means you are free to derive artwork from the font, to embed it in a pdf, to branch, extend and tweak the fonts to your liking. You can also send a patch to contribute to Raph's project.
It is also the result of cutting-edge innovation. Raph has been using his own font design toolkit called spiro to design Inconsolata. Spiro is based on revolutionary curve technology implementing Euler spirals. The spiro toolkit also includes various optimisation scripts. See http://levien.com/spiro for all the details.
It is work in progress (the coverage is mainly Basic Latin, Latin Extended-A and Latin-1 Supplement at this stage) but it is already very useful as such and has great potential to grow to support more Unicode blocks as needed.
This open font project is being generously sponsored by the TeX Users Group Development Fund which you can contribute to.
You can also use Inconsolata directly from your TeX environment using newer implementations like XeTeX or pdfTeX.
Alright, how do I get it?
Thanks to work done by the Debian fonts task force (See the corresponding Alioth project), Inconsolata is now available in Debian unstable and Debian testing. It will soon be sync-ed to Ubuntu.
It is co-maintained by the pkg-fonts team and the mirror Ubuntu fonts team. These teams are part of the open font movement working on improving the availability of high-quality open fonts, packaging the existing ones, integrating them with the wider free desktop stack, getting a toolkit together to do open font design and of course engaging more designers to release fonts under the OFL.
You can find other open fonts designed by Raph on his OFL fonts page
And many other open fonts projects are listed at: http://unifont.org/fontguide, http://scripts.sil.org/OFL_fonts and http://www.openfontlibrary.org/
Free the glyphs :)