July 11th, 2007 edited by Tincho
Article submitted by Matías Teplitzky. We are running out of articles! Please help DPOTD and submit good articles about software you like!
MOC stands for Music On Console.
MOC is a powerful and easy to use console audio player. It does support OGG Vorbis, FLAC, WAV, WMA and MP3, among other audio formats. In addition, both playlists and URLs are supported. Moreover, JACK, OSS and ALSA output types are supported.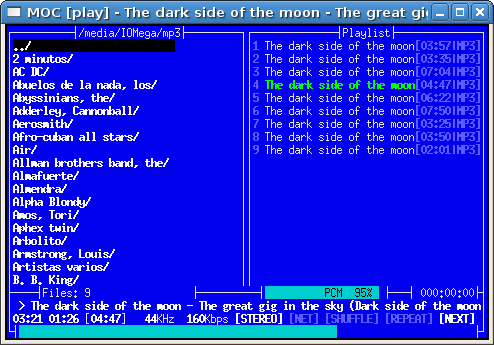 Its interface is based on ncurses, which consist in two columns (it will probably remind you "Midnight Commander", mc package in Debian). The first column allows you to browse the filesystem so you can search and find the files you want to play. The second column can be used not only to create your custom playlist, you can also indicate MOC a certain directory where your audio files are, and they will be automatically reproduced.
To see MOC in action, just type mocp on a console. In this way, the server and the client (the interface, actually) will be started automatically for you. It takes some time to get used to the interface, but once you get comfortable with it, you will find it easy and quick to manage. Some tips to start: with the TAB key, you can switch between the playlist and the load list; by pressing a, you will add a file to the playlist; the ENTER key is used to start playing a file or browse the filesystem; with < and > you can increase and decrease the volume. In addition, note that by just pressing q, the client will quit, but the server will still be running. To kill both the server and the client, press Q instead. Complete help can be found by pressing h or at the man page of the program (type man moc).
One thing to remark about MOC is the fact that it is very low resource consumin, so it will run smoothly, even on old hardware. Take advantage of it!.
Want to have some extra fun? Just try some of the themes available for MOC (yes, themes are supported!).
MOC has been available in Debian and Ubuntu since a long time ago. It is licensed under the GPL and you can find its homepage at http://moc.daper.net.
Posted in Debian, Ubuntu | 16 Comments »