November 4th, 2007 edited by Vince
Article submitted by Vincent Fourmond. We are running out of articles! Please help DPOTD and submit good articles about software you like!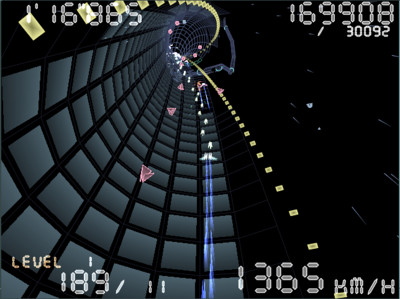 Torus-trooper is a pretty nice abstract shoot-'em-up taking place in what could be called a space tunnel. You drive some kind of ship or car who has to stay on the sides of the tunnel, and shoot bad enemies. This game is pretty neat and original in several ways:
You don't have lives or energy. Rather, you have a limited amount of time to spend in the tunnel. Every time you kill some (big) enemies, you may gain 15, 30 or 45 seconds. Every time you get shot, you loose 15 seconds.
In addition to shooting, you can build up a kind of charge by pressing the x key. When you release that charge, it runs in front of you, destroying enemy ships and absorbing enemy shots - the latter adding significant amount to your score. One thing though: building the charge slows you down considerably.
It is pretty fast-paced, rather faster than anything else I've seen, and quite neatly designed.
I like the idea of the tunnel!

When you start the game, you can ask for full screen mode (which makes you feel more "into" the game) with the -fullscreen option. After that, you get a menu where you choose the level and start playing with the fire key. You can also see your last game re-played with the alt key.
Once in the game, you need few keys: arrows, or wasd for movement and acceleration; z for normal firing and x for charge shooting. esc will take you out of the game and p will pause it, as expected.
Some screen shots
Torus-trooper is available in Debian testing, but it still hasn't made its way into Ubuntu.