October 14th, 2007 edited by Vince
Article submitted by François Ingelrest. We are running out of articles! Please help DPOTD and submit good articles about software you like!
What is an Audio Player?
Aren't you tired of those audio players with billions of useless features that clutter up their graphical interface? I am. Most of the time, the player looks good on paper, but when I'm faced with the interface, I don't even know where to start in order to play my music. There are a lot of buttons, lists, combo boxes a bit everywhere and their usage is not so intuitive.
Above all, the worst thing about these features is that I really don't need them. Do you really rate your tracks? I don't. I know my music collection, I know what I like and what I don't. Do you really need those fancy smart playlists? I don't. When I want to listen to my music, I want to listen to an entire album, not just a track from here and another one from there.
A Solution Exists
Decibel Audio Player is a simple and nice audio player for the GNOME desktop. GNOME was precisely designed to be simple and nice, so why bother with a complex player and a cluttered graphical interface? Decibel Audio Player follows as closely as possible the GNOME Human Interface Guidelines, here is how it looks like: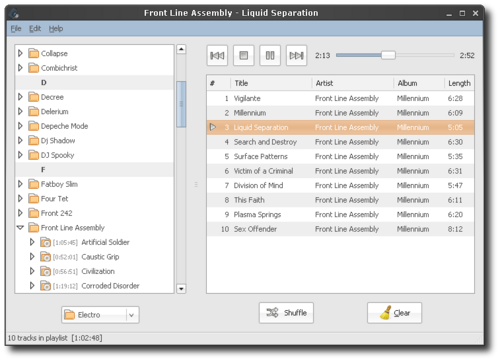 Another key aspect of this player is its modular design that allows users to enable only the features they want. The core of the player is very small and simple, and features are implemented in their own module that can be enabled/disabled as needed through the preferences: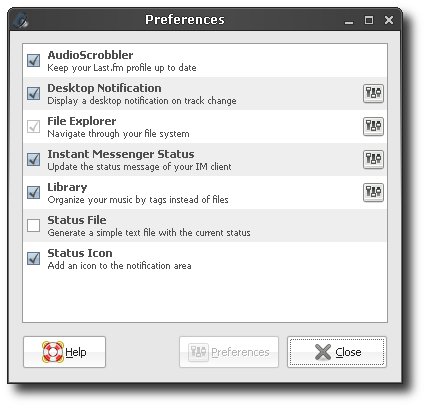 So if you don't want a feature, you simply disable the corresponding module and it gets out of your way. Decibel Audio Player is built on top of GStreamer, and currently supports MP3, Ogg Vorbis and FLAC formats. Its interface is intuitive, and tracks may be dragged, reordered, removed… as needed. Although it is still a young project, current features are correctly implemented and simply work as they should.
Availability
Decibel Audio Player is available in Debian unstable/testing and Ubuntu Gutsy Gibbon repositories (package decibel-audio-player). A more recent version, with music library support, is also available from the website. If you're looking for a simple audio player, give it a try. You won't be disappointed.
Links
Posted in Debian, Ubuntu | 9 Comments »