May 6th, 2007 edited by Tincho
Entry submitted by Jason Polak. DPOTD needs your help, please contribute !
This utility for the GNOME desktop allows you to switch between virtual desktops by moving the mouse cursor to the edge of the screen, as if dragging it to the next one beside it, and is a nice alternative to keyboard shortcuts for the more mouse-oriented user.
The configuration screen in the screen capture can be started by running the command brightside-properties. The command may also be in the System->Preferences under Screen Actions. To activate brightside when you log in, place the command brightside in the Startup programs list in System->Preferences->Sessions.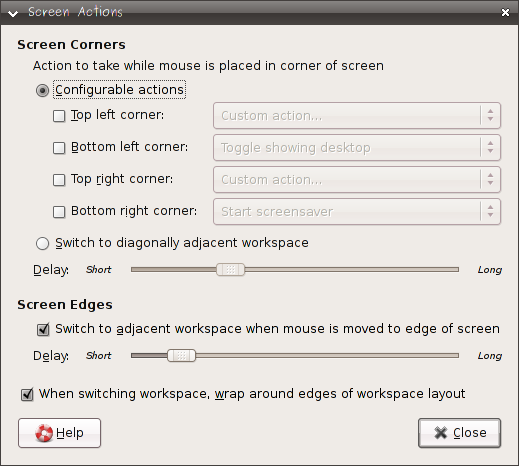 You can also assign actions to the corners of the screen such as stopping the screensaver or running your favorite mail client. This feature is sometimes buggy in that it does not always work when workspacing switching is also enabled, as sometimes desktop switching takes priority over starting an application.
The workspace or virtual desktop switching features works well with a solid feel, and moving the mouse across the screen is faster than having to click on the workspace switcher, or faster than using a keyboard shortcut if your hands are not placed on the keyboard.
Using the workspace switching function, applications can also be dragged along to the next virtual desktop. For best results with application dragging, move the application smoothly to the new desktop without stopping at the edge. This dragging feature does not work with XMMS and possibly other applications without a normal window border.
With the wrap around the workspace edges option, which is the last option in the screenshot, the first and last workspaces will also be connected, and using this feature with three virtual desktops allows you to access any virtual desktop by either moving the mouse to the left or right edge.
I installed this program after seeing a feature like this on another window manager, and I use it nearly every time I switch virtual desktops.
brightside has been available in Debian and Ubuntu for a long time